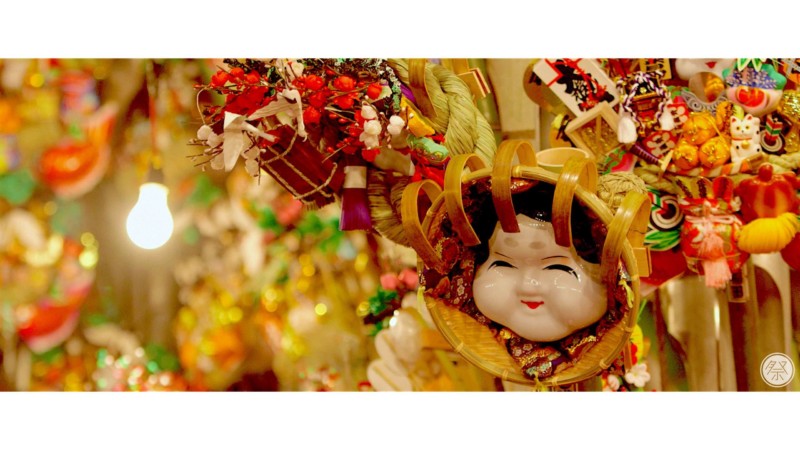 Things to do
1. Check out the simple "Kakkome" and the colorful "good-luck rake"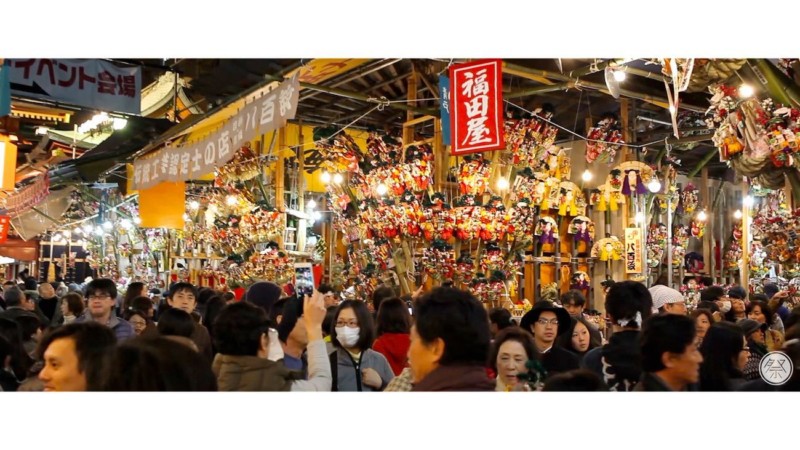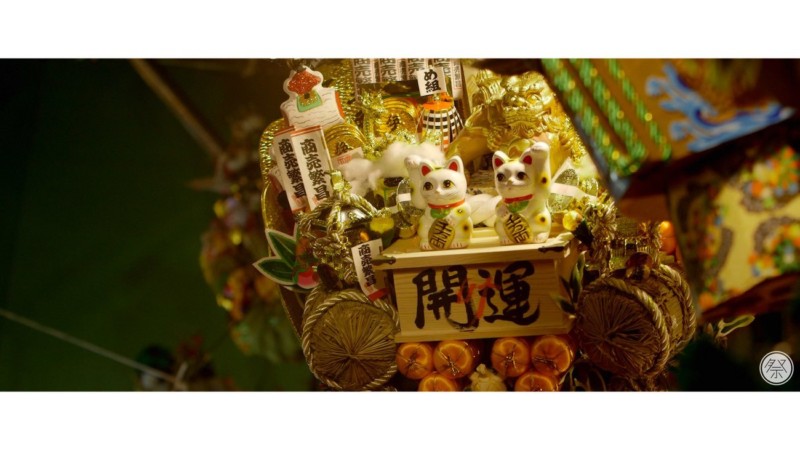 They both are rake-shaped signature talisman sold at the Tori-no-ichi market, which are meant to "gather up" good fortune. Kakkome are handed out inside the shrine, and good-luck rakes ("Engi-kumade" in Japanese) can be purchased at the stalls. The good-luck rakes come in all shapes and designs, and people choose theirs according to their budget and wishes. The rule is to buy a new one every year. While some wish for the stability in their business by purchasing the same sized rake each year, most people choose to upgrade to a bigger rake every year in order to pray for the growth of their business. Take your time, and find that special rake for you!
2. Enjoy the Japanese rhythms!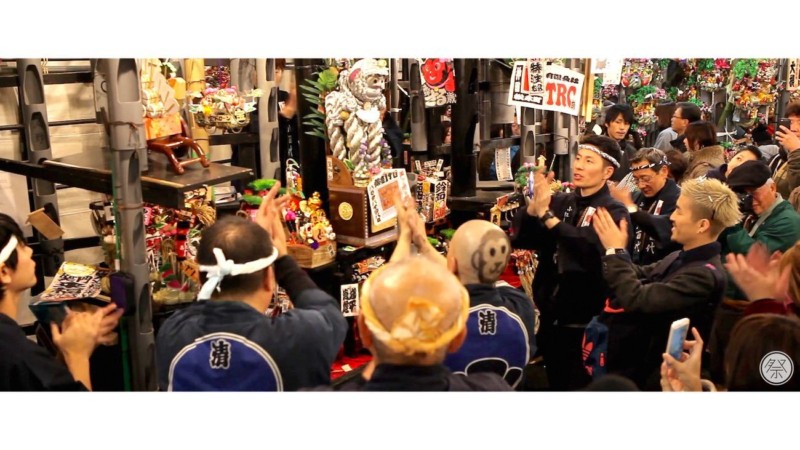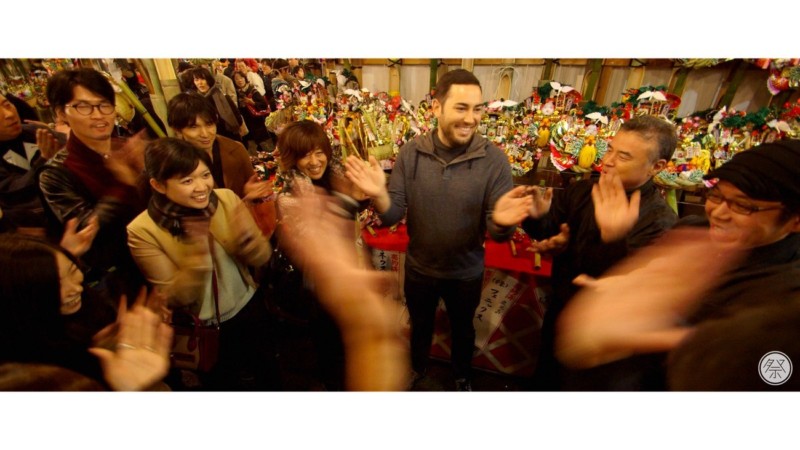 You will hear rhythmic hand clapping coming from and around the rake stalls. These claps are called "Tejime." They are clapped in unison with a rhythm of 3,3,3 and 1, in order to wish together for business prosperity. If you buy a large rake, the shopkeeper will clap with you. If you hear a "Yooooo!!" call, that signals the start. Clap along together!
3. Yatsugashira and Kirizansho; eat them for good-luck!
Large taro known as Yatsugashira are sold at the Tori-no-ichi market. They are regarded traditionally as a symbol of good-luck and social success, as well as bringing the blessings of many children (because of the many sprouts each taro puts out). Another famous specialty is the Kirizansho, a Mochi (rice cake) sweet made with powdered Sansho (Japanese pepper).

Sansho is Japan's oldest spice, and it is regarded as a symbol of efficacy since the entire tree (leaves, flowers, nuts, trunks and barks) can be used without any waste. Please try them!
4. Watch the divine eagle's descent to Tori-no-ichi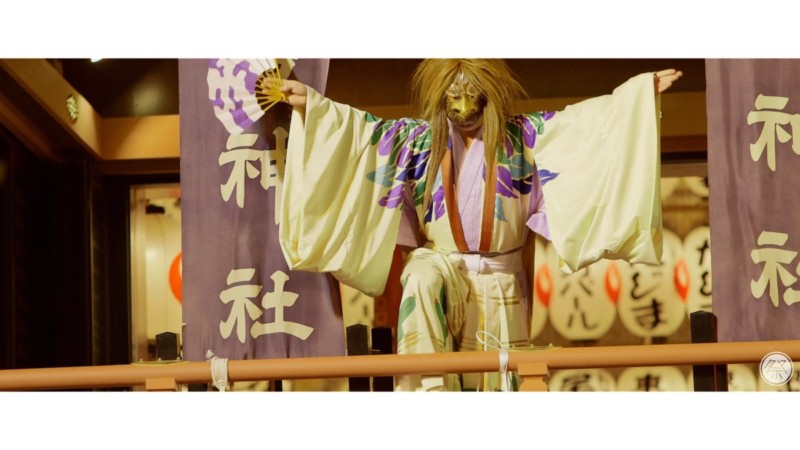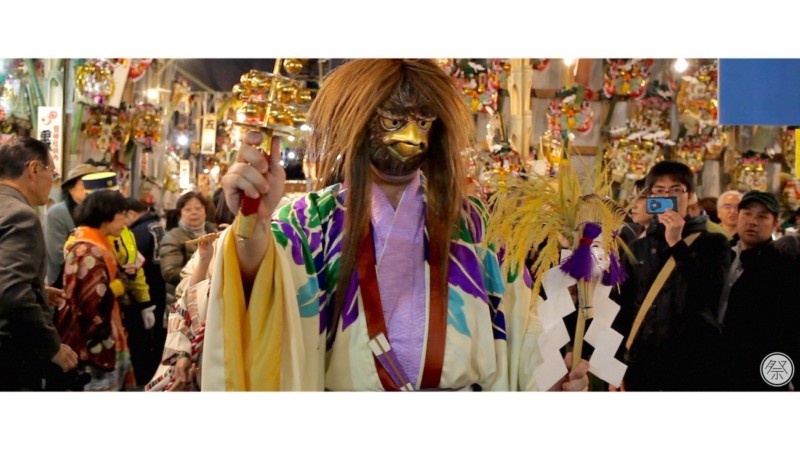 You are able to witness a traditional dance known as "Otori-mai" during the festival. A dancer rids festivalgoers of evil spirits by vigorously dancing with a sharp-eyed eagle mask, holding the three sacred imperial treasures (mirror, sword and jewel that appear in the Japanese mythology) in his right hand and a rake with a Okame (traditional female mask) in his right. Otori-mai can be viewed inside the shrine as well as the 瑞鷲渡殿 during the following times.
First appearance: Shortly after midnight (following the Ichiban-taiko)
Second appearance: Around 6 PM
Third appearance: Around 8 PM
(starting times are tentative)