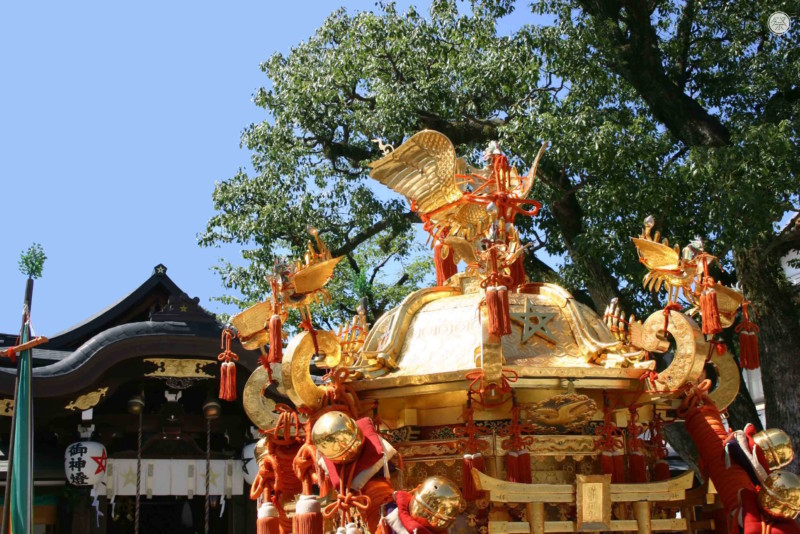 Things to do
1. Watch mikoshi, selected children and flute brigades parade the streets of Kyoto!


From 1:00pm on the Autumn Equinox, the mikoshi togyo (a procession featuring sacred items and a portable shrine) is held during the Shinko-sai. The invigorating calls of the mikoshi carriers enliven the festival. The lively team of young flute players lead a parade around the Nishijin community featuring cute shrine maidens called Miko, and selected children called Chigo in beautiful costume. Enjoy the rare and local atmosphere of Kyoto's streets.
2. Watch the Yutate Kagura, just be careful of the hot water.
The Yutate Kagura ceremony is held from 7:00pm on the eve of the Autumn Equinox. It is a ritual to pray for a healthy year free of disease and the granting of wishes. Water is boiled in a pot in front of the main hall. Upon finishing the Kagura, the pot is purified by the Miko who continues by splashing the hot water all over using bamboo branches heavy with leaves. Don't be surprised if some splashes reach you.
Viewing the Kagura is of course free of charge, however, if you pay a ceremony fee you can receive a personal Kagura blessing as well as a Seimei Manju (sweet bun) from the offering table. Those who are interested should visit the shrine office on the day of the event.