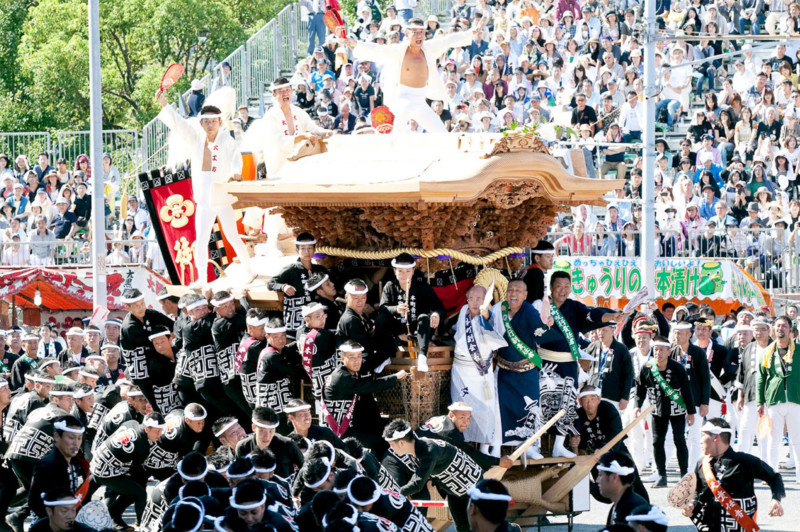 Things to do
1. The wild "Yarimawashi" fearlessly challenging the tight turns!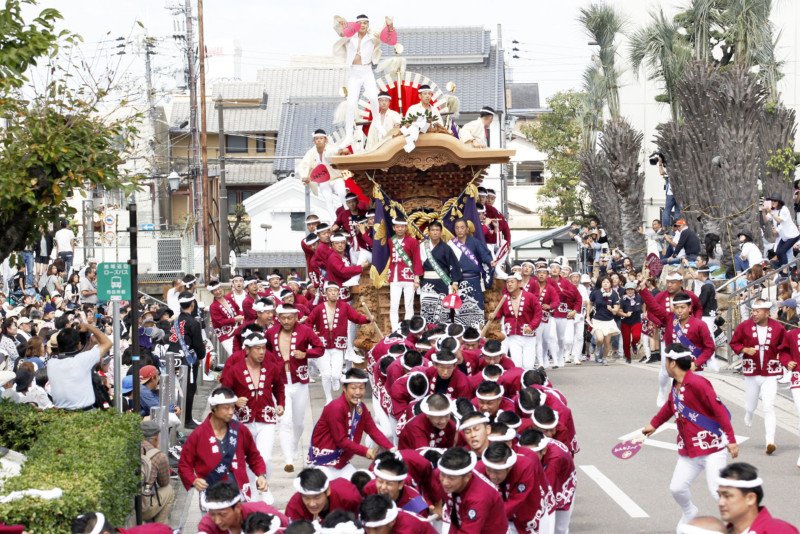 The highlight of the Kishiwada Danjiri Matsuri is the "Yarimawashi". 400 to 1,000 "Hikite" men pull the Danjiri (weighing more than 4 tons) around 90 degree turns while going full speed. If you see it up-close, you will be overwhelmed by the striking intensity of the Danjiri whizzing by as the men yell out the chants "sorya, sorya!"
"Yarimawashi"—the act of turning the Danjiri around 90 degree corners without halting its speed—obviously is an uneasy task requiring seasoned skill and a heightened sense of timing, combined with an ability to act as a unified team. With that said, the true highlight of the festival may be the spirit of unity, as those causing momentum and those in charge of turning, combine their efforts into one.
2. The artistic finesse simultaneously existing with the bold vigor of Danjiri
While the eyes naturally are attracted to the rough nature of the festival, you cannot miss the beauty of elaborate carvings on the Danjiri floats. You will witness a great variety of pieces such as human figures, horses, sacred beasts, flowers, birds and even arabesque designs, all finished without the use of lacquer or gold overlay in order to accent the wood grain of Japanese elm. In contrast to the many festival floats across Japan that are lavishly ornamented, Kishiwada's Danjiri has kept its tradition of simple yet valiant build of "Izumibori" wood-carvings, passed down by local Miyadaiku (carpenters specializing in the construction of shrines and temples) masters who are said to have been involved in the construction of even the famous Nikko Tosho-gu in Tochigi.
3. The graceful "Yakan-eiko" (night parade) displays the festival's "quiet" element.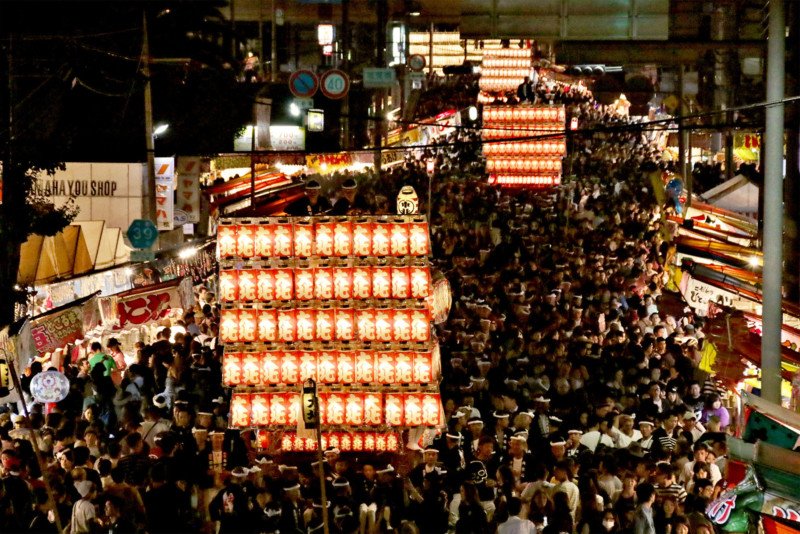 In contrast to the action-filled daytime parade, the "Yakan-eiko" features a mix of adults and children slowly pulling the Danjiri, lit-up with paper lanterns—displaying the "quiet" element of the festival. The floats give off a lush mystic atmosphere, quite different from the vigor of the daytime, each decorated using 200 lanterns.
The delicately carved artwork on each Danjiri is the pride and honor of each town or district. The slow-moving "Yakan-eiko" is recommended for those who wish to view them up-close.